Hot Deal

Launchpool Project
Listen (Raise 2)
$LSTN is your ticket to an unprecedented collection of exclusive Social Impact NFTs from the world's greatest stars.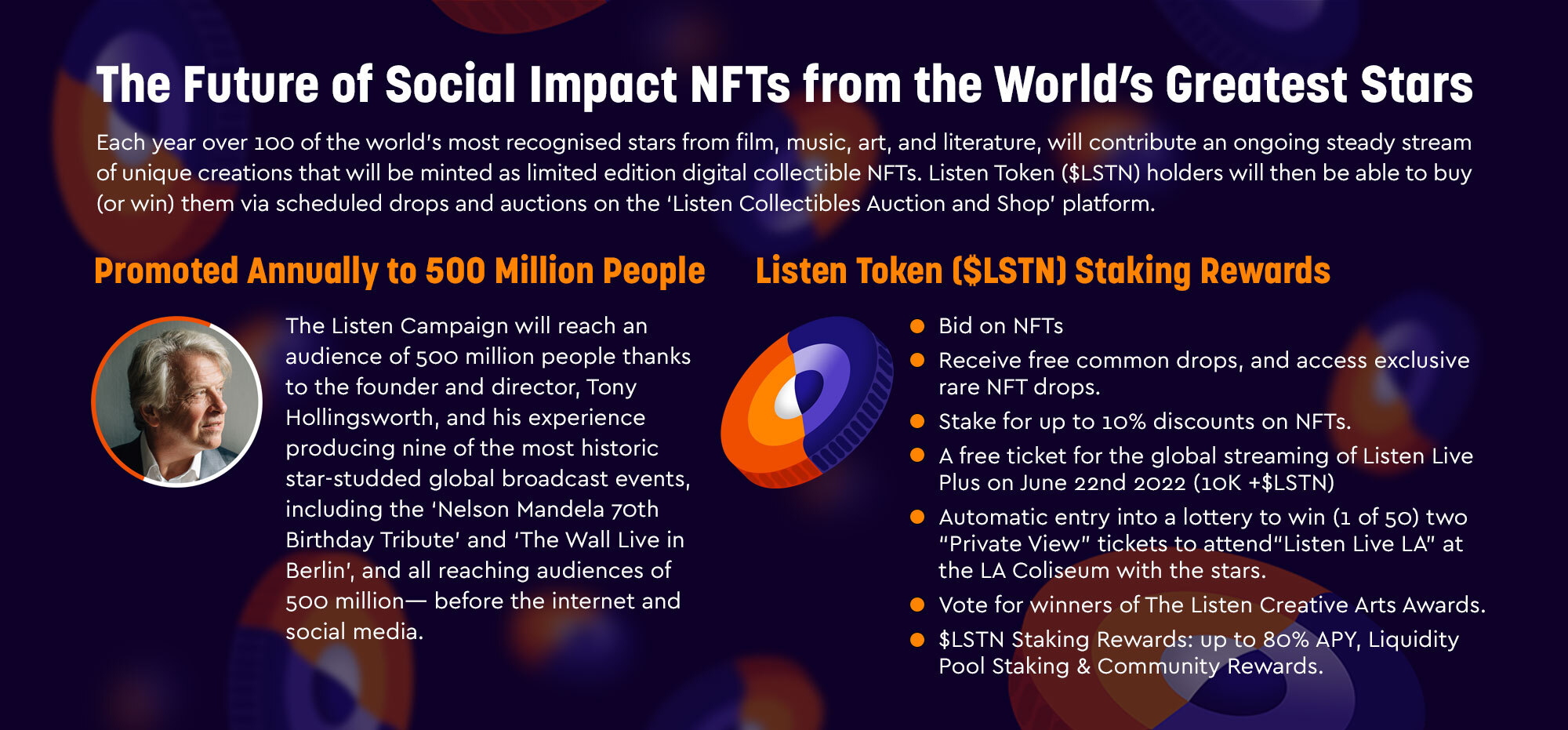 Raise Network:

BSC Mainnet
Distribution Network:

BSC Mainnet
Target Raise:

250k BUSD
Good day, LPOOL hodlers.
As the Listen project was so popular we've decided with the Listen team to do a 2nd raise on the Launchpool platform.
There is an additional $250,000 worth of tokens available for allocation.
More details will be offered in our Telegram Support chat.
Summary
$LSTN is the native utility token for The Listen Collectibles Auction & Shop: the first digital collectibles platform with an integrated pipeline of social impact NFTs from Star Creative Artists and the best of Citizen Artists from around the world. Each year over 100 of the world's top Star Creative Artists from Art, Digital Art, Literature, Music and Film – and tens of thousands of Citizen Artists – will contribute to and create unique content for the Campaign. Selected items will be minted as NFTs.
The platform benefits from being part of 'The Listen Campaign', a massive campaign to 100s of millions worldwide, creating a global community driving social impact through the production and consumption of digital art on the blockchain. The Listen campaign will curate and sponsor these limited edition digital collectibles via scheduled drops and auctions on the Listen Collectibles Auction and Shop platform.
Project coming soon
What is allocation mining?
Allocation mining is the action of staking $LPOOL to receive a part of the allocation offered by projects on the Launchpool platform.
What is AMR - Allocation Mining Reward
This is a measure akin to APY. It is designed to help participants understand the rate which they are mining allocation over the Allocation Mining Event.
What is an AME - Allocation Mining Event
An Allocation Mining Event (AME) is a staking pool in which you lock up your $LPOOL until the end of the AME (normally 4 or 5 days in length). Staking your $LPOOL in the AME gives you the option to purchase the allocation you mined - using ETH to make the investment - at the end of the AME countdown. After the AME your $LPOOL is returned, regardless of whether or not you take the allocation mined.
Learn more about Launchpool