Big Shot

Launchpool Project
GamiFi IDO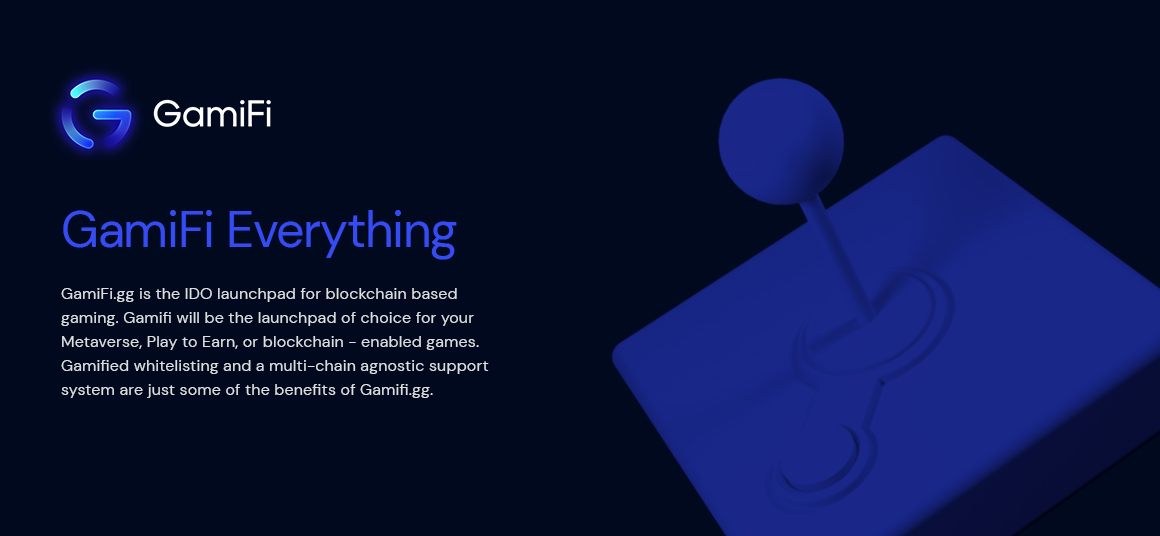 Raise Network:

BSC Mainnet
Distribution Network:

BSC Mainnet
Target Raise:

150k BUSD
Summary
GamiFi.gg - the Gamified IDO launchpad - optimised for blockchain based games.
At GamiFi, we love games. A fun, gamified way to launch your next blockchain based game is right here. GamiFi offers support for your game launch, both pre and post launch with our industry leading ecosystem partnerships.
GamiFi believes that Blockchain enabled games are not only the next big thing, but the intersection of different aspects of the crypto ecosystem. NFTs, the Metaverse, and in-game assets are just scratching the surface of what blockchain and gaming can achieve together.
While other platforms focus on the cryptocurrency side, and cater to the NFT/Metaverse/Play to Earn community. At GamiFi, we tap into that community PLUS the Esports and online gaming communities through our strategic partnerships.
Gamers are already accustomed to tokenization, with in-game currencies, loot boxes, and avatar customisation. Blockchain brings gaming to the next level with NFTs representing assets, fully immersive 3D metaverses supplying virtual experiences that are unparalleled. GamiFi is here to be the catalyst to this revolution.
GamiFi has an entire ecosystem of partners to assist any team looking to launch their blockchain based game. Pre and post launch support is guaranteed, and we want you to join the larger ecosystem and keep receiving support long past your IDO.
Project coming soon
What is allocation mining?
Allocation mining is the action of staking $LPOOL to receive a part of the allocation offered by projects on the Launchpool platform.
What is AMR - Allocation Mining Reward
This is a measure akin to APY. It is designed to help participants understand the rate which they are mining allocation over the Allocation Mining Event.
What is an AME - Allocation Mining Event
An Allocation Mining Event (AME) is a staking pool in which you lock up your $LPOOL until the end of the AME (normally 4 or 5 days in length). Staking your $LPOOL in the AME gives you the option to purchase the allocation you mined - using ETH to make the investment - at the end of the AME countdown. After the AME your $LPOOL is returned, regardless of whether or not you take the allocation mined.
Learn more about Launchpool